Information for Participating Churches
Ride and Stride is one of few fundraising events that can still take place this year.  It is not an organised group event like other bike rides, so participants can follow social distancing whilst taking part.  We understand that things are more difficult this year and that it might not be possible to open your church for the event, but don't let that deter you, there are other ways to take part.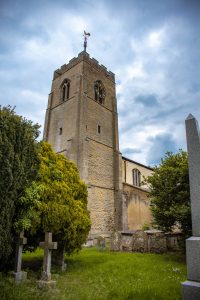 Open Churches
If you can arrange for your church to be open without breaching social distancing and other requirements, please do so, but please observe your Church authority's advice on cleaning, facilities for handwashing and use of toilets. Current advice is not to serve refreshments.
Open your church from 10 am to 6 pm on the day wherever possible
Display the poster in your church and/or locality.
If possible, have people in the church throughout the day to welcome Riders and Striders and other visitors (your welcomers can be sponsored for the hours they volunteer).
What if we can't open the church?
Ride and Stride participants do not have to physically enter churches in order to take part.  There will not be a register of visitors for people to sign this year.  Participants will be encouraged to take photographs of the places they visit instead.  All you need to do is display an event poster.
You might also consider placing displays of some kind in the porch with information about the church.  It is not advisable to put out items that people will touch, such as leaflets, unless people are instructed to take them away with them.
Don't forget the churchyard – these spaces have an important relationship with the buildings but are often overlooked.  All you need is a sign welcoming people to the area, with some ideas of what to do e.g. sit and relax, have a moment of mindfulness, go on a hunt for the oldest gravestone etc…  Include a reminder about social distancing and other measures.
Ride and Stride coincides with Heritage Open Day, so it is a great opportunity to celebrate historic places of worship.  Please make sure you put up publicity for both Ride and Stride and Heritage Open Day. 
Go Digital
As it is still desirable to reduce travel in order not to risk contracting or spreading infection, we have decided not to produce a list of churches in the county this year. There are, however, two excellent national websites that can be used to find out more information about churches.
A Church Near You – https://www.achurchnearyou.com/
Explore Churches – https://www.explorechurches.org/ 
It's a good idea to see if your church is listed on these websites and that information is up-to-date.  Some people might even use them to do a virtual Ride and Stride.
This year could be the perfect opportunity to explore online giving if you haven't already done so. Try creating a www.give.net fundraising page for your church for our event. Start at https://www.give.net/20037232/. Individuals will be able to distribute the link to the church fundraising page.  Sponsors who prefer to do so can donate on-line and we will still know which church is to benefit from half the amount raised.
Event Paperwork
Unfortunately, due to the restrictions this year, we will be unable to distribute physical copies all the paperwork. It can all be downloaded via the links below.  If you have any problems please contact the Trust Secretary.
Continuation Sponsorship Sheet
After the event please send figures, photographs and stories from the day.