Across Cambridgeshire and the country on 10 September 2022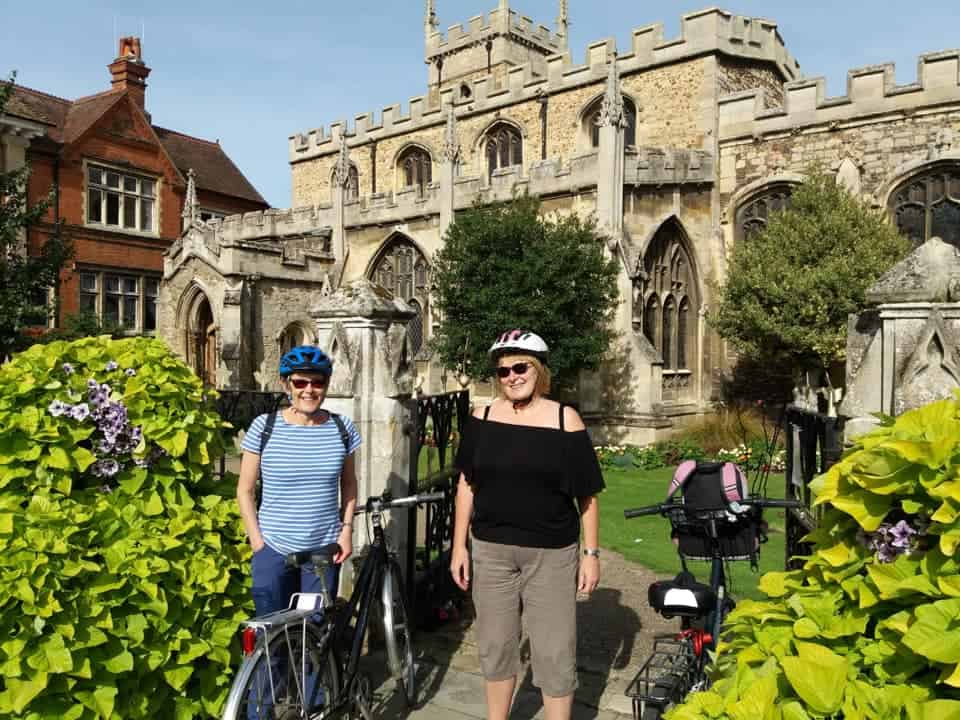 Ride & Stride is a sponsored event for cyclists, joggers, walkers and horse riders.
Participants challenge themselves to visit as many churches as they can by their chosen mode of transport and at the same time raise money to support the work of the Trust.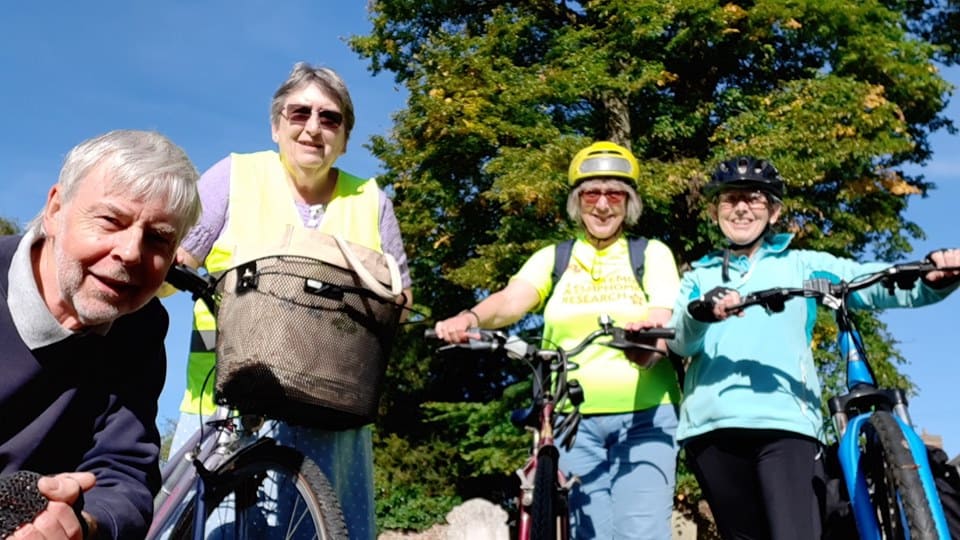 Money raised will help Cambridgeshire Historic Churches Trust to continue supporting buildings across the county with essential repairs and improvements.
Participants can nominate their local church to receive 50% of the money they raise.
Why Do Churches Need Ride and Stride?
Few historic buildings are as easy to visit as a parish church. They are often the oldest building in a village or town with each stone marking the location where history happened. They are open and welcoming to all, but the buildings require a great deal of care and repair throughout the year which has to met by small groups of volunteers. Maintenance and repair costs range from thousands into the hundreds of thousands, which is beyond the scope of most modern-day congregations. That's where grant-making organisations like the Cambridgeshire Historic Churches Trust step in, but we need your help to raise the vital funds. You can make a difference to the history on your doorstep – churches belong to us all, they are part of our story of life, love, death and everything in between!
The money you raise will be split between the Trust and your chosen place of worship. If the sponsorship is Gift-Aided, then the Trust can benefit further.
What if I don't want to Ride or Stride?
Cycling and walking are the most popular ways to take part, but we welcome other methods – unicycles, three-legged teams, vintage tractors. We also welcome vehicles when other methods might not be possible, but please be aware that parking at some sites is limited. Historic churches are continually striving to improve access for all, but please be aware of steps and uneven floors in many places. Dogs on leads are also welcome in most churches.
2021 is likely to be a very different event with social distancing and other measures still in place. Some churches might not be open, whilst some 'riders and striders' might not wish to travel as far or to as many locations as they might normally. But don't let that deter you, this event can still be enjoyed and our amazing church heritage celebrated. Find out more on our FAQ page.
How can the event still take place in 2021?
Ride and Stride is not an organised group event like other bike rides. Participants can follow social distancing whilst taking part.
There is no need to go inside churches to take part, but where buildings are open appropriate measures will be in place.
Don't forget churchyards – these are often overlooked spaces that have an important relationship with the buildings they surround and are great places to explore or relax in.
What if the situation with Covid-19 changes before the 11 September?
Whilst we cannot currently be sure what the situation will be on 11 September, we need to plan ahead in order to make the most of whatever opportunities are available.  Even if restrictions return, there is a good chance the event can go ahead in some format. You might visit churches virtually or just get out and explore your local churchyard.
Can I take part on a different day?
Yes.
You can take part on any day but the churches that are visited may not be open or stewarded so you may need to sign your own sponsor form.
I am too old to cycle, walk or horse ride, how can I take part?
You could be sponsored to welcome visitors to your church.
A great success of the event is having people in the churches to welcome Riders and Striders who visit.
Can I take part doing something other than cycling, walking or welcoming?
Yes.
However, please ensure that your church council is aware of your intentions as any ensuing liabilities need to lie with them rather than CHCT.
Do I have to belong to a church to take part?
No.
Just someone who is willing to raise money that will go towards churches.
Can we take part as a family?
Yes.
Ride and Stride is a family-friendly event and family members can either have their own separate sponsor forms or a shared form.
Can we take part as a group?
Yes.
Groups (e.g. Scouts, Guides, Toddler Group, Sunday School, Walking group, Cycling Group) are welcome to take part.
Restrictions due to Covid-19 might mean that whilst you can fundraise as a group, the actual participation on the day will need to be done in smaller family or household groups.
Please check Government guidance at the time and do not put yourself or others at risk.
Please also be especially aware of road safety if a number of you are able to travel together.
How many churches do I need to visit?
As few or as many as your wish.
Just let the people sponsoring you know how many churches you are planning to visit.
What route must I follow?
You can choose your own route covering any distance you wish and visiting as many churches as your would like.  This year we advise exploring your local area to limit the risk of the spread of infection.
Do I have to start at my own church?
No.
You can start and finish anywhere in any county which is participating.
How do I know which churches are taking part?
We are currently compiling a list as churches register with us. A link to this will soon be available.
Whilst we do not encourage car use to visit churches, vehicles are welcome in the following situations:
when other forms of transport aren't possible
to transport you to your first church and from your last church
If using a car as the main source of transport, please ensure the people sponsoring you know your intentions and that your car insurance covers you for this activity.
I will be away on holiday on the second Saturday in September, can I take part somewhere else?
Yes.
Over 30 counties take part in this event so you can take part in another part of the country or on a different day.
To find out details of the event in another county visit National Ride and Stride
I will be overseas on the second Saturday in September, can I still take part?
Yes.
You could take part on a different day. Alternatively, you could visit churches in the country you are visiting but make sure that the people sponsoring you know your intentions.
Can I raise money for my own church?
Participants are allowed to nominate a church of their choice who will receive 50% of their sponsorship money (before GiftAid).
There is a space for this information both on the sponsorship form and Total Giving our online giving platform.
Can I donate all my sponsorship money to CHCT?
Yes.
On the sponsorship form write "100% CHCT" in the box on the sponsor form where you can nominate a church.
If you are using Total Giving to raise money online enter "100% CHCT" in the 'Which church are you sponsoring?' field.
Can we still visit churches in other counties?
You are welcome to visit churches in any of the participating counties listed on the National Churches Trust's website.
We suggest limiting it to your local area rather than further afield, as it is still desirable to reduce travel in order to reduce Covid-19 risks.
Why haven't I received any of the event paperwork?
Unfortunately, due to the restrictions this year, we will be unable to distribute physical copies all the paperwork. It can, however, all be downloaded on this website – If you have any problems downloading the material please contact David Stazicker ([email protected]).
Should I get sponsors to sign my form?
Riders and Striders may find it more practicable to seek sponsorship "virtually" instead of using paper forms. If so, it is important to record whether each sponsor wishes his or her contribution to attract Gift Aid.
Will there still be a Register of Visitors to sign?
In according with guidance, we will not be producing a register of visitors which is usually signed by all participants. We also do not require participants to get their own church visit record signed at each church. Photographs can be taken of each church visited if needed.
Can I raise money for a different charity?
No.
CHCT will only pay out a 50% share of sponsorship money to a church.
Can I raise money on-line?
Yes.
CHCT is registered with Total Giving – link coming soon.
How do I get a sponsor form?
My church does not take part in the Ride and Stride and would like to join. How does it join?
First, make sure your clergy, ministers or church council are happy for the church to take part.
You will find our online form for churches here – link coming soon.
Ride and Stride Disclaimers
Please note:
We regard individual fundraising volunteers as doing so "in aid of" Cambridgeshire Historic Churches Trust.
We are sure that churches and individual fundraising volunteers will behave sensibly and responsibly at all times. They are responsible for their own health and safety. The fundraising activities which take place on the annual Ride and Stride event are outside the control of Cambridgeshire Historic Churches Trust; we cannot accept any liability as a result of the activities outside our control.
We ask for names, addresses and email addresses to the extent necessary for the administration of the fundraising event. We need to complete this data for six complete tax years to support Gift Aid claims. Other administrative hard-copy data will be destroyed after three years.